Software
Insight
Overview
Specifications
FAQ
Overview
Insight is a software which handles hyperspectral images, two-dimensional images and spectra, measured by spectroscopy and microscopy instruments. These data often have microscope pictures with their measurement location data as meta data which are shown together. Insight has a lot of functions to display, process and analyze them such as overlay display of translucent data over the microscope image.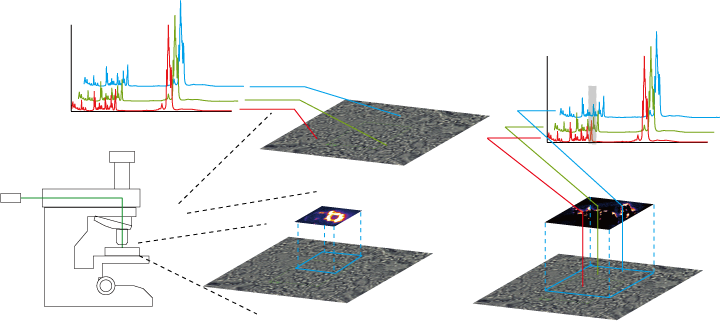 Fig. :Three kinds of data ( Spectra, a two-dimensional images and a hyperspectral image)
Features
Three kinds of data; hyperspectral images (.ssi), two-dimensional images (.smi) and spectra (.ssg)
Flexible export/import between different format data.
Integrated interface for all kinds of data format.
Single window with tab-page system handles a variety of data easily.
File explorer system makes it easy and quick to access any opened data.
A lot of spectra are store in one data (.ssi)
A lot of two- images are store in one data (.smi)
Intuitive creation of spectrum image in a hyper-spectral image. (.ssi)
Functions
Spetrum [.ssg (scienceedge spectra graph) format]
Plural spectra are handled in one data. Their visibility are controlled individually.
Measurement location can be recognized on microscope images.
Arithmetic operations between spectra. (+ − × ÷)
Save as text data.
Flexible and easy export/import between data
Others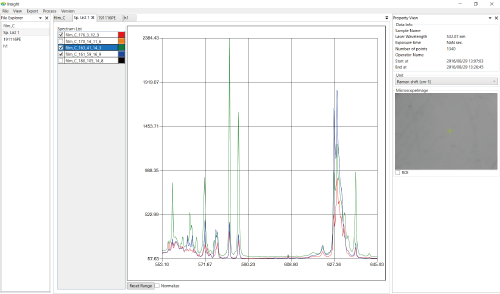 Fig.: Spectra Data
Two dimensional images [.smi (scienceedge multi-image) format]
Export images
Contrast Adjustment
Translucent overlay images on a microscope image
Others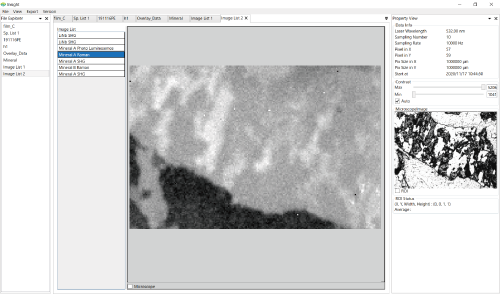 Fig.:Image Data
Hyperspectral images [.ssi (scienceedge spectrum-image) format]
Spectral images creation with intuitive selection of spectra band.
Spectral image creation mode: Intensity and peak area based on covell method.
Arithmetic operations between all spectra in a hyperspectral image and an input spectrum (+ − × ÷)
Export spectra to ssg data.
Contrast adjustment of spectral image.
Translucent overlay of a spectral image on a microscope image
Others

Fig.:Hyperspectral image data
Common
Data handle with a file explorere
Displaying a microscope image
Displaying meta data such as measurement condition
Save and open data
Dispay version window
Applications
Raman spectroscoy, Infrared Spectroscopy, reflection spectroscopy , absorption spectroscopy, and reflection spectroscopy
Confocal microsocpe, Confocal fluorescence microscope, laser scanning micorscope and SHG microscope
Raman miroscope, IR microscope, White-light spectroscopic microscope, LIBS microscope
Specifications
Operating environment: Windows 10 64bit OS
Version: V.1.4
License: Permanent license with a USB dongle.
Deliverable:  An installation DVD, a USB dongle
Hystory
2020/12/14 : Ver 1.4.8 was released.
Context menu for spectral range Setting in graph for SSI data is added.
2020/11/19 : Ver 1.4.7 was released.
Psuedo color expression for SSI data/SMI data.
2020/10/01 : Ver 1.4.6 was released.
FAQ

Q1. Can spectra and hyperspectra data be handled wihtout a microsocpe picture as meta-data?

A1. Yes.